Welcome to Eastbrook Farm
Welcome to Eastbrook Farm Allotment Society's website.

We hope our website will assist and encourage our members and plot holders to get the most from their onsite gardening experience. We see this website as an extension of our aim to encourage friendships and knowledge exchange throughout your time as part of our community. Eastbrook Farm has a wealth of knowledge if you know who to ask; some of our plotholders are third generation on the site. Their knowledge of the ground, what variety of vegetable is the best to grow etc is the best learning you will find, for example did you know King Edwards are not very successful on our site? Why? We don't know the science, we just know! and that is the knowledge that comes from years of experience of working the site and that is what your neighbours and friends at the site would like to share.

Membership of the society is £2.00 per year, membership renewal is on 1 October each year. There is no reduction on part year membership. Full membership benefits are listed under Join us.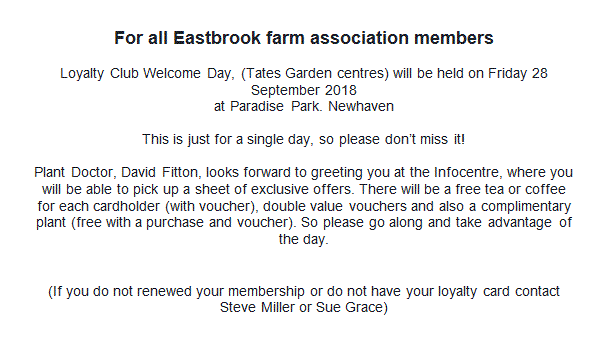 Social Events
Throughout the growing year we have a number of social events to encourage members to come along and get to know one another, swap ideas, ask questions of that old guy in the next plot that you always thought of as Mr Grumpy, once you get to know him you may find he's probably not grumpy just deaf!

Spring Fayre
This is our first Barbeque of the year. This is when you can bring and swap plants if you have grown too many or you can buy some starter plants for a small donation. Also if the Society has had donations of tools etc these are also available for a nominal amount of money. This event takes place in early May to allow for planting time over the bank holidays.

And now it's competition time, a little friendly rivalry doesn't do any harm. Everyone is welcome to enter as many competitions as they would like as many times as they would like, but there is an entrance fee of £1 to the Society per entry.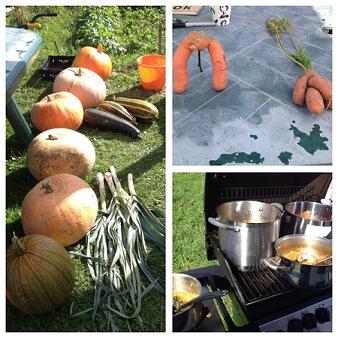 Summer Competitions
This is our second Barbeque of the year and the competitions include heaviest onion, heaviest tomato and longest runner bean.

Autumn Competitions
We are approaching the end of our main growing season so this is our Chilli/Curry event (just in case the day is a bit nippy!) Amongst our competitions are the heaviest marrow, the heaviest pumpkin, the tallest sunflower, the longest leek and of course everyone's favourite the funniest vegetable (you just have to remember children will be entering also, so not to risqué!).

Bonfire Night
This is our final barbeque event of the year, how else could we end our year but with fireworks and an evening with friends, enjoying the fruits of our labours with lovely hot cups of pumpkin soup in front of a large fire!

We wish you all a happy growing season.